On Natural Phenomena - Part 1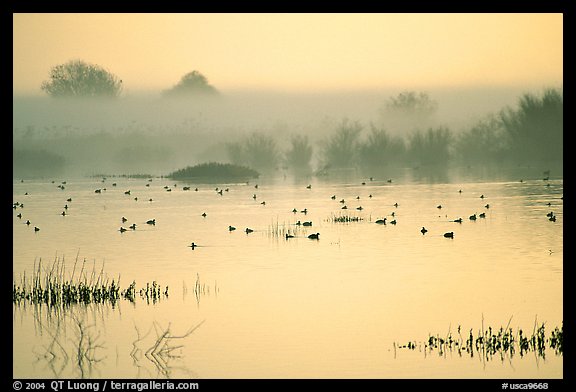 Is mist a type of fog or is fog a type of mist?
My three-year old daughter has been debating me on this topic recently. And I'm beginning to think she has the high ground.
In our backyard there is a body of water (that is
not
a picture of our back yard). The body of water in our backyard is part of the Fort Bend County flood control system, but our house is upstream of a small dam. Anyway, the past few weeks, it has been sunny and unseasonably warm during the day (highs around 80) and cooler at night (but still unseasonably warm with lows around 50). When this weather pattern persists, mornings are extraordinarily beautiful in our backyard. The sun comes up over our house, eventually shining on the water, illuminating what I have been calling "the mist" rising off the water. Each day, I say "Wow, look at that gorgeous mist!" (or something similar). And my daughter says, "No, Daddy, that's
fog
."
Tomorrow morning, I'm going to say "look at that gorgeous fog." I can't wait to see what she says to that...