On Going Shoeless in the Office - Part 1
My father-in-law and I have had many conversations over the years about comfortable shoes.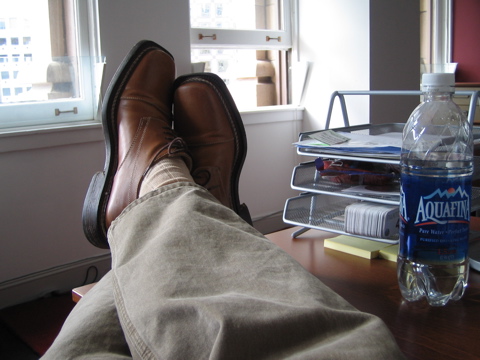 The quest therefor. The thrill of finding comfortable shoes. That's a thrill that last and lasts. He was pitching me on his latest find - a pair of ECCO boots that he can wear inside and out. Driving his tractor or going to Mass. He really likes them. This might be them: click
here
.
So he was recommending that I give them a try and asking me whether I have comfortable shoes for work. And then I realized that I don't hardly ever have shoes on when I'm in my office. I come in here, I sit down at my chair, and I take off my shoes. I keep my shoehorn right next to my keyboard. If I have to leave my office or if someone who might find my stockinged feet overly unprofessional comes to call (e.g., a candidate for a job here), I slip my shoes back on. Then when I get back in here or the person leaves, I take them off again.
Paraphrasing Ferris Bueller: if you have the opportunity, I definitely recommend taking your shoes off at work.